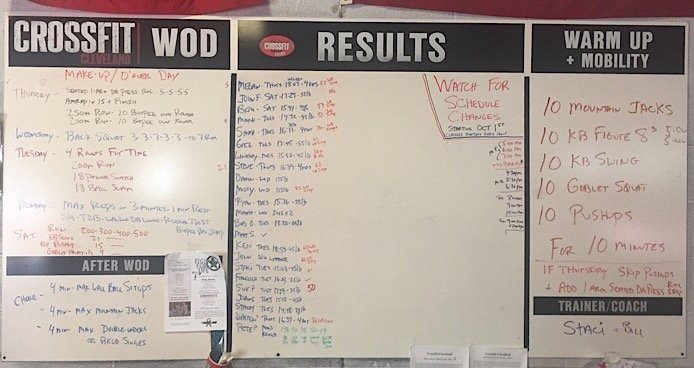 [vc_row][vc_column][vc_column_text]In case you missed the announcements, we have a new class schedule effective Monday October 2, 2017.
We are updating our workout schedule to offer CrossFit classes starting every hour instead of every half hour.  This will allow us to provide you with an improved training experience by having the Main Workout Floor area available for the full class time.  We're excited about the additional options in programming that this change allows.
We'll be maintaining our existing style of workouts, while adding additional skill, mobility & strength work before and after the WODs. The "Deck" will be available for stretching & mobility work before your class starts and  extended cool downs after your class. If you want to get in a little strength work before your class, there will be two squat racks set up along the north wall for your use.
Here is the class schedule starting Monday 10/2/2017. Please note the Sunday Open Gym, Back Room Strength Training, Boot Camp, CrossFit LITE, CardioFIT and Kickboxing class times remain unchanged.
CROSSFIT CLASSES – Effective Monday 10/02/2017
Mornings: Monday thru Friday
5:00AM
6:00AM
7:00AM
Mid Mornings: Monday, Wednesday & Friday
9:00AM
Afternoons: Monday thru Thursday
4:30PM
5:30PM
6:30PM
Saturdays:
8:00AM
9:00AM
10:00AM
11:00AM – Basic Intro Workout
---
Friday's WOD:
Today is a "Make-up"/D'over Day.  You can do any workout you missed in the past week or choose to do one over again.[/vc_column_text][/vc_column][/vc_row]