THE GYM FOR


FITNESS

NUTRITION

COACHING

GREAT RESULTS

A BETTER YOU


IN Rocky River
Our workouts are never boring. Sometimes they are even fun!
We're a community of like-minded people who support and motivate each other. 
Y0u'll have a Coach to support you every class.
Learn movements with proper form and gain confidence while reducing your chance for injury!
This is YOUR hour. Invest in yourself.  What you do here makes you better outside the gym.
We design efficient workouts to maximize your results and minimize your time spent.
We do the thinking for you. Workouts  are all planned out for you.
build new habits around fitness, nutrition & recovery with accountability to reach your goals while keeping it fun!
healthy lifestyle coaching
TAILORED TO MEET YOU WHERE YOU ARE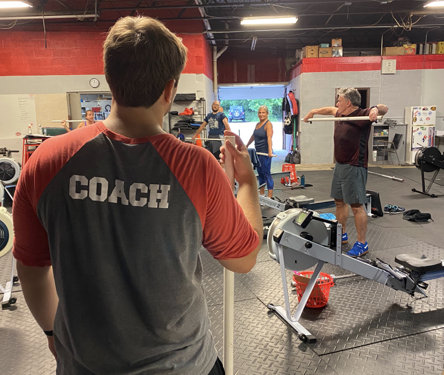 Our CrossFit Member classes are Coach-led in a supportive and fun environment with like-minded people. We do the thinking for you.  Show up, do the work and get AMAZING results.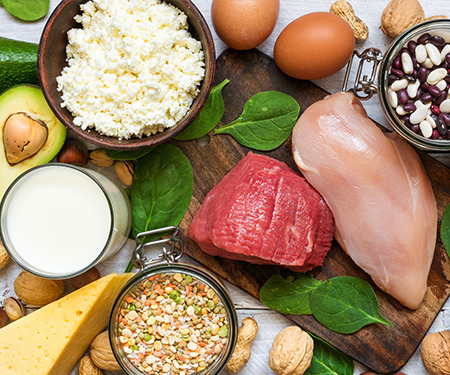 Stop 'fad' and 'yo-yo' dieting and start focusing on healthy habits that you can sustain and enjoy. Our exclusive Heath-Centered Lifestyle & Accountability Coaching is founded in creating real lasting change, education, and personalized coaching.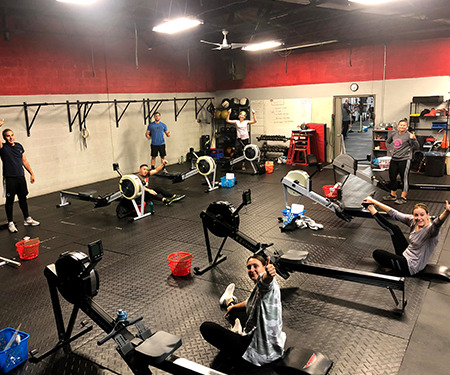 Our LITE classes CrossFit-style workouts without the heavy barbells. They are geared for people of all ages and fitness levels who are looking to improve their overall health and fitness. Don't let the name fool you, these classes very challenging. Beginners are welcome, we'll modify to your level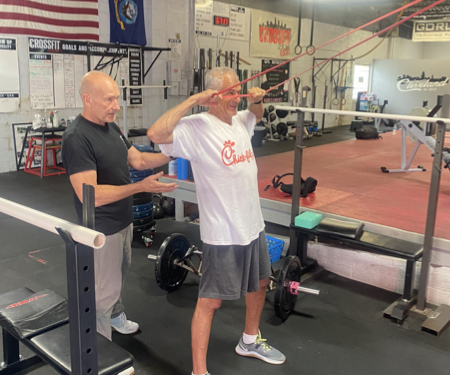 Our specialty is helping men and women get stronger, leaner and more confident as they get older, even after injury or surgery. Remote and In-Person Programs available.
DON'T JUST TAKE OUR WORD FOR IT
WHAT Rocky River LOCALS ARE SAYING...

Kat Bishop
What a great group- staff and members! The coaches are friendly, knowledgeable and helpful. They are there to help you reach your goals. The atmosphere is very much a team and community, what I love about this place. I started with CrossFit Lite and nutrition. Now I'm happy to say I've joined regular CrossFit classes. I recommend all of their classes if you want a challenge and a push in your routine. Consistency is key. I look for to being around like-minded individuals who support each other, have fun & work hard. It helps me stay on track and to show up.

Brian Waller
Staci/Bill and the team at CF Cleveland are top notch. They operate their own style of what I would consider family friendly, healthy lifestyle training. They understand their community members goals and do a great job of implementing their training! The people are awesome, very welcoming, and it makes for a great experience. It's so much fun you almost forget you're working out!!! The coaches always make up creative workouts and they make the time fly by! Money well spent if you're looking to invest in yourself, health, and wellness! Great equipment, clean facility, well managed, and very welcoming! Don't be a afraid to stop in for a visit!!!! You'll likely stay a while!

John Prosser
I have been going to CrossFit Cleveland since June of 2021 I walked in at 241 pounds heaviest I've ever been, So I entered the gym world in fear of how everyone would see me, or judge me. The first few minutes of meeting Staci and Bill that fear quickly went away they opened the door with welcoming arms!! They have pushed me along with the coaches and all the members on a daily!! . Some people think the gym isn't for them just because they have that fear of judgment? well I assure you CrossFit Cleveland and everyone that attends CrossFit Cleveland are there with a helping hand and nothing but good and positive advice. I encourage anyone who is on the fence or that has fear just as I had give CrossFit Cleveland a chance you won't regret it. I will end with this not only am I now down to 209 pounds ive also lost 11% body fat and how much it helps me mentally is amazing!!

Jenny Kemper
I LOVE CrossFit Cleveland! Bill, Staci, Courtney and the rest of the trainers are top notch. They meet you where you're at, help you learn proper form, encourage consistency and other factors to optimize your workout and life outside the gym (diet, sleep, community). And - they push you to stretch and grow outside of your comfort zone - in a good, good way! 🙂 CrossFit isn't just for elite athletes - it's for virtually everyone. This 'box' has members of all levels and fitness/ability. Very friendly, not competitive, and very fun group. I can't recommend it enough!

Sue Olson
Crossfit Cleveland is Crossfit for ALL. No matter where you are in your fitness journey, there is a place for you. The results I have had in my personal fitness have been life changing! The community of people have truly become my friends. There is no excuse not to give it a try!

Jamie Gallagher
Great coaching and very knowledgeable staff. Bill and Staci are professional and fun! They are committed to making us better through the work in the box and their knowledge of better nutrition. Come for a free workout on Saturday at 11AM. Show up and do the work...you will get better....
ARE YOU READY TO LEVEL UP?
We welcome SCHEDULED drop-in's for experienced members of CrossFit Affiliates, please don't arrive unscheduled.  Click here for drop-in details. If you are considering joining our gym, your drop in fee will be credited back to you at sign up. Click the button below to get started!
follow us on social media!