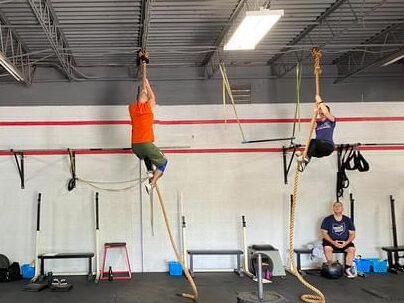 Skills Clinics at CrossFit Cleveland
Rope Climbs & Lifting Atlas Stones
When: DATE TBA
Where: 1211 Allen Court in Rocky River, OH
Led by: Coach Alex and Bill
Members $20 / non-members $25 – Payment reserves your spot
Contact: Staci Russell (216) 287-0899
Our Specialty Clinics are led by CrossFit Level 1 and Level 2 staff and will help you develop the skills necessary to effectively perform the movements covered.
This Skills Clinic will involve Rope Climbs and Atlas Stones. Come join Coaches Alex and Bill to learn proper technique and tips on ascending and repelling our climbing ropes as well as lifting our Atlas Stones that have been in hibernation since before the, well, you know.
You'll get coaching tips based on your current skill level. If you've never climb a rope before, we'll teach you the basic footwork to start your climb. If you're fairly good, we'll make you better. We'll also teach you how to safely and effectively repel back down, which is a skill in itself.
Space is limited. The cost is $20 for Members, $25 for non-members. Payment reserves your spot.